Pavonine Studios
Hand Made Fabric-Covered Journals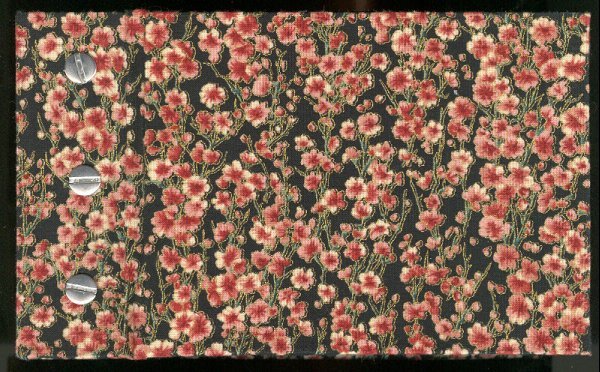 HANDMADE JOURNAL COVERED IN A BEAUTIFUL ASIAN FLORAL PRINT WITH GOLD ACCENTS. IT MEASURES 7.5" WIDE x 4.5" HIGH WITH A WRITING AREA OF 5.75 x 4.75". INSIDE IS A THICK BOOK (1" THICK) OF CREAMY WHITE TEXTURED (A BIT LIKE COLD PRESSED WATER-COLOR PAPER) TEXT-WEIGHT PAPER, WHICH TAKES MANY MEDIA VERY WELL INCLUDING WATERCOLOR, COLLAGE, PENCIL AND INK.

EVERY JOURNAL I SELL IS MADE BY ME AND HAS DECORATIVE ENDPAPERS. THIS PARTICULAR JOURNAL IS BOUND USING ALUMINUM SCREW POSTS. YOU CAN USE THIS JOURNAL LANDSCAPE STYLE AS I HAVE IT SHOWN HERE, OR TURN IT TO USE LIKE A TABLET.
SOLD