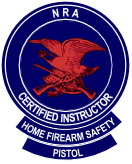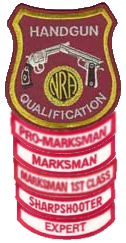 Update: My teaching schedule for 2008 (unless I need to change it):
February 16th, Home Firearm Safety
June 21, Home Firearm Safety
August 9-10, Basic Pistol
October 11-12, Basic Pistol
October 18, Home Firearm Safety
All classes are taught at the Kenmore, WA gun range (link below).
Yes, it's true! I am currently undertaking the NRA Handgun qualification course. I have qualified for the 5th of 6 levels of marksmanship - Expert. Distinguished Expert is not far off and I am very excited about that! Next up, I plan to undertake the course for the various NRA Bullseye qualification levels.
I am a certified NRA Basic Pistol and Home Firearm Safety Instructor. I teach classes at the Kenmore Gun Ranges in Bothell, Washington. My teaching schedule is not a set one, but you'd like to know more, please let me know and I might be able to help you out. Of course ALL the instructors there are great - extremely helpful and encouraging. I am one of only a few female instructors though - so if you think you'd rather take a class from a female instructor, you might want to investigate further before signing up. However, in my opinion, all of the guys I have worked with have been nothing but supportive of me. I think highly of all of them! My next class will be on August 12 and 13th, 2006 (Basic Pistol). I am team teaching this (all classes at Kenmore are team taught) with Dan Reynolds (and probably someone else too).
I get lots of interesting looks and comments when folks find out that I am into shooting (targets, that is). It seems such a disparate thing from art......
...or is it?
I wrote a tiny little blurb about it on my blog page...but there is always more to be said.
Why am I interested in this stuff? Well...not being the athletic type (except for shot-put and discus in high school...which seems like an eon ago) I am delighted to find something that I am...dare I say it? ... good at! It takes skill, patience, discipline, strength...
I have developed and continue to develop the knowledge, skills and attitudes needed for this sport.
I look at guns in a completely different way than I did 3 or 4 years ago. There are still things that trouble me - for example, I will never be a hunter, unless I am forced into it because of circumstances. Still, I respect the fact that some like to hunt. It's not for me, but that's not to say that it isn't for some. I am entranced by the skill shown by some of the shooters I have seen and met at the range that I go to. I want to shoot like THAT when I grow up!
I keep meaning to have a philosophical discussion with my husband about the issue of respect with regard to firearms. I must do that because I think that it's a serious question and deserves some thought and discussion.
Also, I find the male/female 'dialog' quite interesting. I promise to post thoughts on that too...
I think I could go on and on about this subject...and likely will continue to post my thoughts here on this page - so if you'd like to keep up, bookmark me!